Milieudefensie (Friends of the Earth Netherlands) has been working toward a fair and sustainable world since 1971. And we've had our share of successes. On the following pages we will share our greatest successes with you. Get inspired!
Want to know more? Contact our Service Line.
For more inspiration, read about our history.
Biofuels
Goal: Stop using food crops for biofuels.
Action: To call on Minister Cora van Nieuwenhuizen and State Secretary Stientje van Veldhoven to stop using food crops for biofuels and to start focus on sustainable solutions.
Success: More than 32,000 signatures sent to politicians. On Tuesday 25 May 2021, a law was passed that legally excludes biofuel from palm oil and soybean oil from 1 January 2022. 
The CO2 tax on industry
Goal: Make polluters pay for the CO2 they emit.
Action: For 12 years we have campaigned for a CO2 tax. Research was done, reports were published, a proposal for a CO2 law was made and we asked the public on their opinion on the proposed law.
Success: On 15 December 2020, the bill for a CO2 tax for industrial companies was passed by the Senate and the Netherlands became the first country in the world with a CO2 tax for industrial companies.
A climate law
Goal: A Dutch climate law
Action: In 2008, Milieudefensie starts campaigning together with Natuur & Milieu and JMA, the youth organization of Milieudefensie for an ambitious climate law. An entire legal text for the the law is written.
Success: After ten years, the Netherlands has finally adopted a climate bill. The law states that the Netherlands must reduce CO2 emissions by 95% by the year 2050 (compared to 1990).
Sustainably-produced milk (2017)
Goal: Fair and sustainable milk and dairy products in supermarkets.
Action: Customers called and emailed their supermarkets, asking for fair milk. If dairy farmers were to receive a fair price for their milk, they would be able to produce sustainable milk.
Success: Three supermarket chains (including the two largest) responded quickly. The rest will no doubt follow soon.
Shale gas (2015)
Goal: Prevent the further exploitation of shale gas in the Netherlands.
Action: Local residents asked their municipalities to declare themselves shale gas-free areas..
Success: 223 of a total 388 Dutch municipalities and 10 of the 12 provinces committed to this declaration, blocking all shale gas drilling exploitation in their respective jurisdictions. The government subsequently banned the drilling for shale gas for a period of five years.
Air pollution (over many years)
Goal: Putting an end to  air pollution in Dutch cities.
Action: Local groups measured the air pollution levels using special air gauges and actively campaigned in their own cities. These citizens, together with Milieudefensie, brought a lawsuit against the Dutch government in order to force it to take action on cleaner air.
Success: The results from the 100 monitoring points were presented as evidence in court. The judge ruled that the Dutch government was indeed mandated to improve the general air quality as soon as possible.
Read the whole story of this court case [link]
Oil disaster Nigeria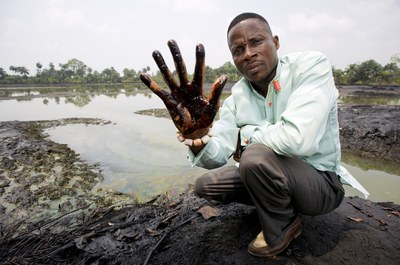 Goal: Forcing Shell to clean up the oil spills in Nigeria.
Action: Together with 4 Nigerian farmers, Milieudefensie sued Shell in an effort to makethem to make it liable for the oil spills they were responsible for in the Niger Delta.
Success: The trial, held in the Netherlands, represented the first time that a Dutch company was held responsible in a Dutch court of law for pollution in a foreign country. The judge ruled that Shell was indeed liable for the environmental damage in one of the three villages. Both Milieudefensie and Shell have appealed the court's decision.
Read the whole story of the Shell court case [link]
Deforestation (the nineties through the present-day)
Goal: Blocking deforestation for paper production, for wood used in furniture and for construction lumber.
Action: People throughout the Netherlands performed surveys of local furniture stores to see how much of their wood came from sustainable sources. Their goal was to convince politicians to do something about all of this illegal wood.
Representatives from the industry, trade unions and environmental organizations worked together to draft a certificate for sustainably produced wood and paper (the FSC approval label).
Success: In 2003, the European Union launched its effort to curb the import of illegal wood (FLEGT), which led to a law being passed in 2010 that banned all illegal timber and implemented a system of checks and inspections. The FSC label (established together with Milieudefensie in 1993) has blossomed into an important international certificate for sustainable forestry. The Dutch government has since 2010 committed to buying only sustainably sourced timber and paper.
Mailbox stickers (the nineties)

Goal: Reducing the amount of advertising circulars people get in their mailboxes.
Action: Milieudefensie designed the Ja/Nee or Nee/Nee (Yes/No or No/No) mailbox sticker for people who didn't want  to receive unaddressed advertising in their mailboxes. Talks were also held with the companies that produce and distribute these advertising circulars.
Success: Milieudefensie brokered an agreement with these distribution companies and the official sticker was launched. Everyone in the country is permitted to affix this sticker to their mailbox. The sticker  became quite renowned and more than 15% of Dutch mailboxes  currently have them. In 2018, Amsterdam will take this initiative a step further; the default will be that people do NOT want these circulars and if someone does want to receive them they can order a Yes sticker'.
Recycling (the nineties)
Goal: To prevent electrical appliances from ending up in a dump.
Action: Milieudefensie negotiated with companies to come up with a scheme that would reduce waste and avoid waste in general.
Success: Philips agreed to start recycling their appliances. Other businesses followed suit.
Air traffic (the nineties)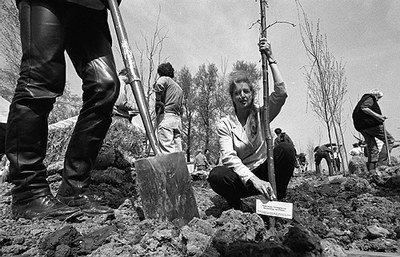 Goal: Blocking further expansion of Schiphol Airport.
Action: Milieudefensie purchased two parcels of land where a new runway was planned. This land was then sold to the general public: 358 people became joint owners of these plots. Some 8,000 people bought a tree and some 6,000 of them showed up to plant their own trees. Although one of the plots succumbed and is now buried under runway asphalt, the other grew into a mighty woodland called the Bulderbos, which continues to be maintained by volunteers to this very day.
Success: The campaign spoke to our imagination and has received a lot of press coverage over the years. This was the first time that the  positive image of Schiphol Airport and air travel in general took a major hit. Although the runway was delayed for several years, we were ultimately unable to stop it from being built.
Environmental pollution in and around the home (the eighties and nineties)
Goal: Informing people about what they can do for the environment in and around their homes.
Action: We opened up an 'Environmental Line', a call service that handled everyday questions about what a person could do around the home to improve the environment.
Success: The 'Milieutelefoon' (Environmental Line) answered thousands of questions every year. Other countries adopted the Environmental Line as well. In 1998, the service became an independent service line, called 'MilieuCentraal'. This environmental information line is still in use today.
Acid rain and the hole in the ozone (the eighties)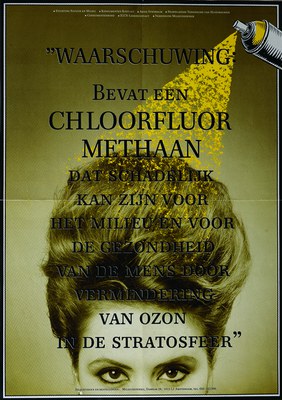 Goal: Preventing acid rain and ozone layer depletion.
Action: People attended demonstrations  against the major causes of acid rain and ozone layer depletion. These were major issues for years, for environmentalists in the Netherlands and many other countries as well. Acid rain is chiefly caused byharmful automobile exhaust, while ozone layer depletion is mainly caused by ozone-damaging chemicals in spray can propellants. Milieudefensie worked together with several groups.
Success: The issue of acid rain has been mostly resolved by the introduction of compulsory catalytic converters in cars. Meanwhile, the worldwide ban on CFCs in aerosol cans and refrigerators has led to a reversal of ozone layer depletion.
Nuclear energy (the seventies)
Goal: To block the construction of more than the two, at the time, existing nuclear plants in the Netherlands.
Action: The campaign was launched with some small-scale protests, which were picked up by environmentalists. Local chapters of Milieudefensie succeeded in expanding the level of the protests into large-scale demonstrations attended by thousands of protesters. The nuclear disaster at Chernobyl in the then-Soviet Union was the final straw against any further nuclear power plant construction in the Netherlands.
Success: The Netherlands never built any more nuclear plants. There is currently only one still in operation.