Today we are writing history. The judge has ruled that Shell is the cause of major climate change. The company must do more to counteract this situation. This is the first time that a company has been forced to align its policies with those of the Paris Climate Agreement.
What did the judge conclude?
The judge has proved us right on many points! In short: the court orders Shell to reduce its CO2 emissions by net 45%  by 2030 (compared to 2019). Shell must also make an effort to reduce CO2 emissions from suppliers and customers with net 45% (2030). And he must do that by changing his company policy. 
The judge also established that companies are responsible for protecting human rights throughout the chain, by limiting CO2 emissions, including those of business relations and customers.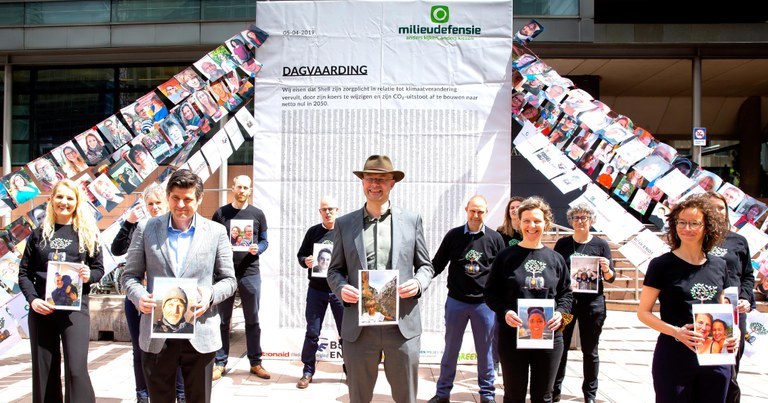 This statement is going to change the world 
Climate cases are being conducted all over the world. But this one is unique because it was not about money. It was about changing Shell's plans to prevent dangerous global warming. Roger Cox,  lawyer Friends of the Earth Netherlands: "This statement is going to change the world. People around the world are following our example and are preparing to sue oil companies in their own countries. And not only that, oil companies will become much more reluctant to invest in fossil fuels, polluting fuels. The climate won  today."
Tears of Joy

We, the co-claimant organizations, along with our attorney Roger Cox, not only left the courtroom cheering, there were also actual tears of joy. Donald Pols, director Friends of the Earth Netherlands : "I'm just standing here and my legs are shaking. Shell has known since the 1960s that it is the cause of dangerous climate change, but never did anything with that information. We've been saying it for years: Do we want to put a stop to climate change? Well then, Shell and the other major polluters will have to join us. And the judge confirmed that today."
A team effort
Friends of the Earth has challenged one of the richest and most powerful companies in the world. Without the support of over 17,000 co-plaintiffs and many others who supported us financially, we would not have been here today. We would therefore like to thank everyone from the bottom of our hearts. Thank you for your support!