The legal case concerns the 3 villages of Goi, Oruma and Ikot Ada Udo. The spills took place years ago. Many people have since moved away. Life has become intolerable there due to the pollution of drinking water, fishing ponds and agricultural lands on which nothing can grow any longer.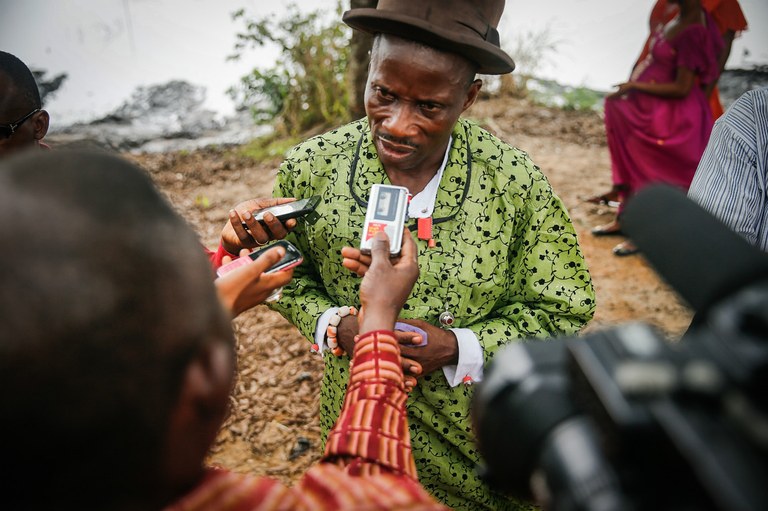 Eric Dooh, farmer
In 2004, oil spilled into the water around the village of Goi. The oil caught fire, and the entire lake was ablaze. All the mangroves burned to the ground. Eric and his father lost everything. They had had several fishing ponds, a bakery and a chicken farm, and employed a total of 30 people. But now, there is nothing left.

Eating, drinking and breathing oil
'Before the oil spill, people here ate well, the fishing was good. Not only enough for themselves, but we could also earn money by selling fish. That's all over now. The oil is in everything – it's in the air we breathe, in our drinking water and in the food we eat. Our people eat, drink and breathe crude oil; that's why they die young.' Says Eric Dooh.

Young village elders
'Our village elders are all dead. And that's why young people like me – I'm only 40 – are now considered as "elders". I now wear the clothes of an old man, while I'm really much too young to be a village elder.'
Test clean-up
'Shell came here two years ago to do a test clean-up, not a real clean-up. They should have sent experts to clean up the area. Instead, they hired local contractors, who had no idea how to deal with this. How can they say that they cleaned it up when you can still see oil lying all over?'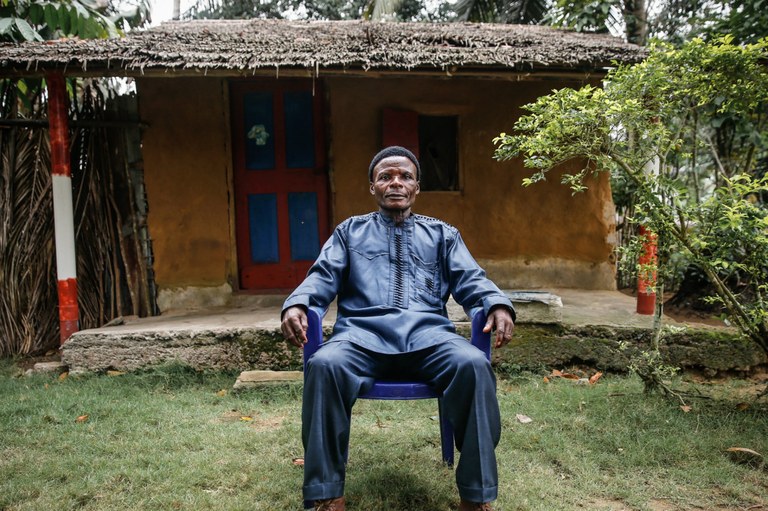 Elder Friday, elder and fisherman
In Ikot Ada Udo, toxic vapours and brown oil leaked from an installation several times. 'Because of hunger, many people had to eat the crops anyway. But this brought many people an early death.'

People die young
'Our fruit has been poisoned by all the oil that has leaked into the soil. Because people are hungry, they eat the fruit anyway – with the result that many people have died at an early age. Everyone in this village is ill, ill because of the pollution.'

Before the pollution
'Fifteen years ago, my fish pond was still full of fish. I had enough money to feed my wife and children and send my children to school. But not anymore. The fish are gone and now there's no money anymore.'
No benefit
'Nobody here earns any money from the oil. Shell has never offered anyone in this area a job. Not even a security guard or a cleaner, just someone to clean up the mess. The only thing that Shell has done is put a fence around the oil location. But this doesn't do any good. You'd just have to throw a lit match over the fence and the whole thing would burst into flames.'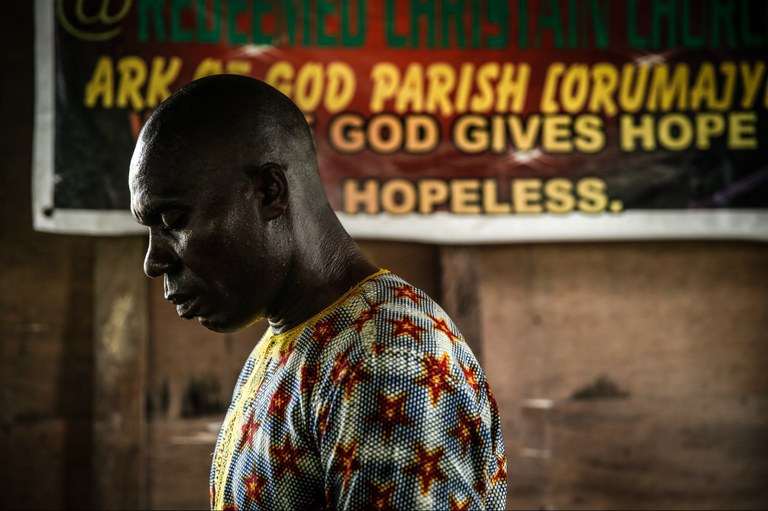 Alali Efanga, farmer
In 2005, there was an oil leak in Oruma that lasted 12 days. This killed all the fish in Alali's fish pond. Alali didn't live to see the verdict of the lawsuit – he passed away in late 2016.

No income
'I still can't farm any fish, because of the oil. I have absolutely no idea how I'm going to put food on my table to feed my family. If this had happened in their own fish pond, if it was their only source of income, would they have taken it so lightly? Would they be saying all those things?'

Undrinkable water
'Our only source of water has been polluted by the oil, so we have to get clean drinking water in other ways. We can go to the pump that the government gave us, but it doesn't work a lot of the time. Sometimes we haven't got any choice but to wait till it rains to get fresh drinking water. Some people get so thirsty that they drink from the river anyway. But you can actually see the oil floating on it, so you really can't do that.'
New diseases
'Three women recently died of cancer. We didn't have that before the oil spills. It's a new disease that's come to our village. There has also been a rise in the number of miscarriages in our village since the spills. Before the oil leaks, that almost never happened.'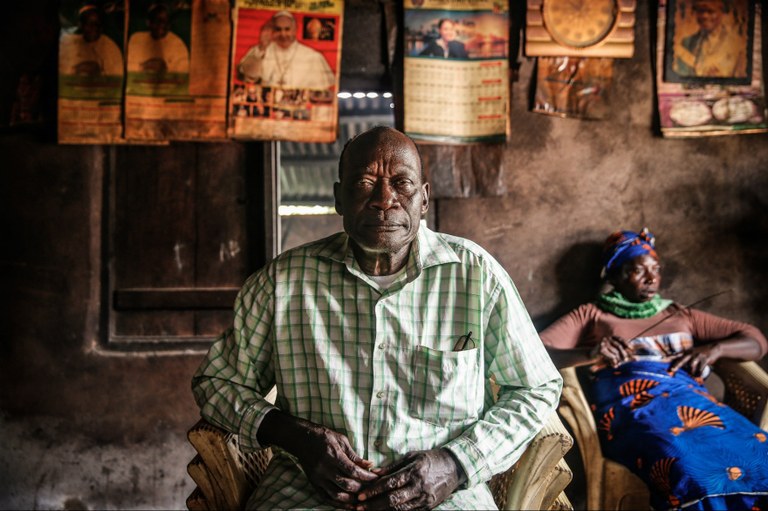 Chief Fidelis, farmer
'Shell left the clean-up work to guys from Oruma instead of experts. They dug a hole, poured the oil into it and left it. But during the rainy season, the crude oil spread all over again.'

Poverty through oil
'Before the spill, I grew vegetables and fruit. I wasn't rich but we could live very well. Now, I can't grow anything in my fields. After a while, the crops die, just like that. Sometimes I go to another village and I beg them to let me use some of their land. That's what we have to live from now.'

What do the plaintiffs want from Shell?
The plaintiffs agree on what Shell must do. Shell must pay for the damage it has caused. Shell must make sure that the residents of the villages can rebuild their lives, so that they no longer die from hunger or are poisoned by the oil in the ground and their drinking water. Shell must replace the oil pipelines and keep these secure as well.
None of the plaintiffs has much confidence in Shell. 'They never think about the poor man. So, there is no hope that things will get better for us. It's because of organizations like Milieudefensie and Friends of the Earth that we have even a glimmer of hope. Only with the help of people all over the world might we be able to recover.'
More information
The Nigerian plaintiffs and Milieudefensie are represented by the law offices of Prakken d'Oliveira, an international human rights law firm that champions the rights of individuals and represents human rights cases. Are you a journalist and do you want more information on the court case?  Reach out to us via   service@milieudefensie.nl.