Feel like doing something good for the climate today? Easy! Buy a sandwich at your local Shell gas station. According to the company, this helps in preventing catastrophic climate change...
Bizarre but true. According to oil and gas company Shell, the sale of flowers and sandwiches at its gas stations adds to its overall Renewables and Energy Solutions spending in 2022. Is the company overinflating its investments in sustainable energy to appear greener?
Shell's green sandwiches
In Shell's annual report (2022), the company claims to invest 14% of its overall budget in Renewables and Energy Solutions. Moreover, Shell says it is a frontrunner in the energy transition. However, when you look closer at the 14% Shell claims to invest in the energy transition, it becomes apparent the company overinflates its Renewables and Energy Solutions spending. According to Shell, low-emission and emission-free activities also include:
filling stations, which mainly sell fossil fuels;
biofuels with a high carbon footprint;
controversial off-setting schemes;
and all products it sells at its gas stations, including sandwiches and flowers.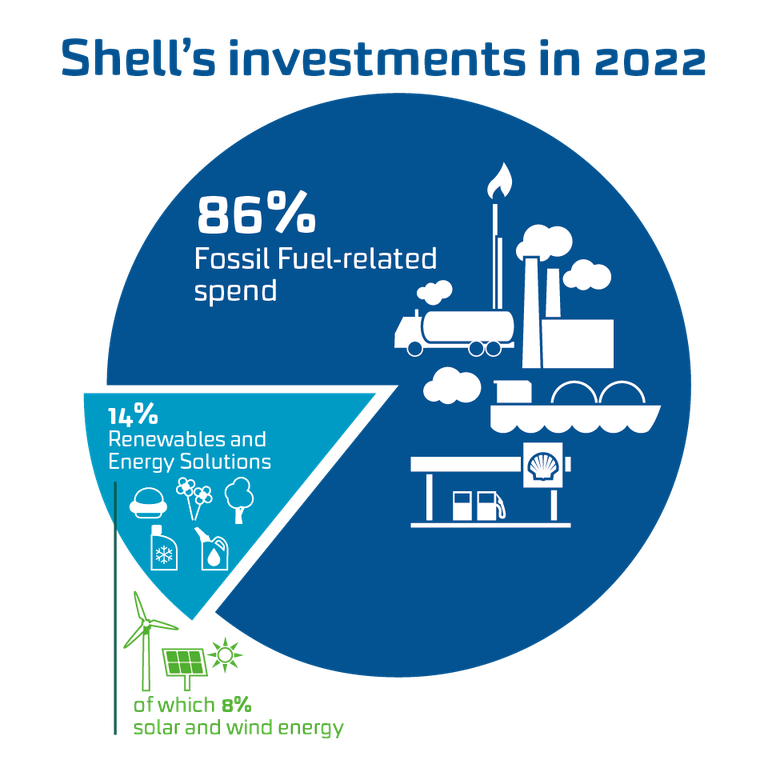 Does Shell meet the verdict in our Climate Case?
In 2021, the Dutch Court ruled that Shell causes major climate change and ordered the company to reduce its CO2 emissions by net 45% by 2030, compared to 2019. To track Shell's progress in meeting the verdict in the Climate Case, we will dive into its plans and activities, starting this year. We will publish the results in our annual Monitor.
This is the verdict in our Climate Case
- Shell must reduce its CO2 emissions by 45% net by the end of 2030.
- The company is also responsible for emissions from its customers (Scope 3) and suppliers.
- There is a threat of human rights violations to the 'right to life' and 'undisturbed family life'.
- Shell's climate policy is not concrete enough and therefore action must be taken with immediate effect.
Main findings in the Monitor (2023)
Shell has no reduction target for its Scope 3 which entail 95% of the emissions associated with the company.
Moreover, Shell's average carbon intensity reduction target of 20% by 2030 will lead to a 0% change in Shell's absolute Scope 3 emissions.
In 2022, Shell spent 2.9 billion USD on wind and solar. This is a mere 8% of its total budget.
In short, Shell has not yet adjusted its climate ambitions to meet the verdict in our Climate Case. The company continues to contribute to catastrophic climate change. This is a threat to human life and a risk in meeting the verdict. Download the Monitor (2023) for all our findings.
Bad news for stakeholders
Shell's stakeholders should also worry about these findings. Because what does the future hold for fossil fuel companies? We will attend the annual stakeholders meeting in London on the 23rd of May, where we will ask Shell:
Will Shell reduce its net CO2 emissions by at least 45%, in an absolute sense, over its complete value chain (so Scope 1, 2 and 3) by 2030, compared to 2019?
We will include Shell's response in our preparations for the appeal, which will (probably) serve in 2024.