Palm oil producer Socfin systematically excludes parts of their plantations from certification. This way they do receive the RSPO certificate, while large parts of their plantations do not meet the environmental and social requirements, analysis by Milieudefensie shows.
Milieudefensie received concerns from communities and civil society about the Socfin certification process and started monitoring in 2020. Together with partners we filed various concerns with RSPO, Assurance Services International (ASI) and certification bodies. In this factsheet we explain how Socfin splits up its plantations into smaller pieces to achieve certification.
As a result plantations that are directly managed by Socfin and deliver fresh fruit bunches to one and the same mill may consist of certified and uncertified parts. In some cases plantation areas with problems that are not 'certification ready' are taken out of the scope of certification by the Certification Body. This is allowed in the RSPO system.
Based on our scan of publicly available audit reports and time-bound plans for Socfin's plantations in Africa, Milieudefensie concludes that the RSPO process has a big loophole which affects the credibility of the RSPO. Directly managed plantation areas in the supply base that do not comply with the RSPO P&C can be left outside the scope of certification.
This allows for quick and dirty certification, because problems are not solved before handing out the sustainability label. This obviously makes it easier for plantation companies to get certified, whilst they buy time to deal (or not?) with environmental or social issues in the rest of their plantation. They can start to gain benefits from their green image towards markets and financiers.
An RSPO certificate can be issued to companies, even if parts of the plantation do not comply with the RSPO P&C, as long as they do not violate minimum requirements for uncertified units. Certification Bodies do not properly and consistently assess compliance with minimum requirements.
Read the factsheet.
Photo above: A worker on a smallholder oil palm plantation in Apouh, Cameroon. © Micha Patault
Download publication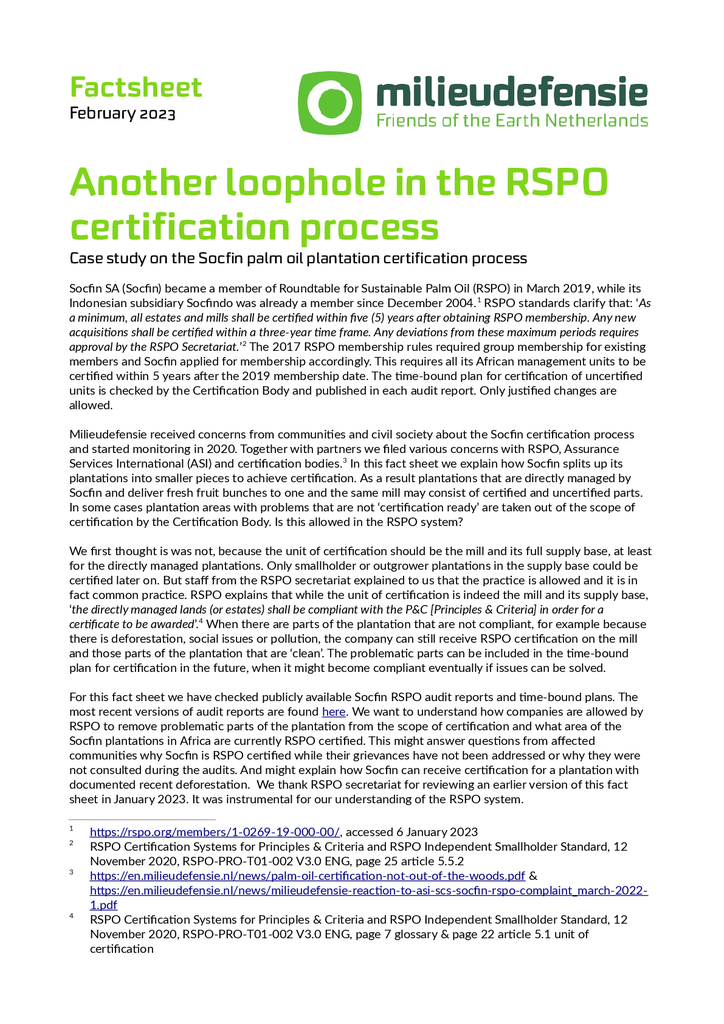 Factsheet loophole RSPO certification_2023.pdf — 129 KB