On 26 May, Friends of the Earth Netherlands won its Climate Case against Shell. This was the first time in history that a polluting company was forced to align its business plans with the goals of the Paris Climate Agreement. Shortly after the verdict, our phone began ringing off the hook. People from all over the world were asking us: How did you manage that? Well, we've described exactly how we defeated Shell in a new manual that we're launching today at the COP so that anyone anywhere in the world can follow our example.
How we beat Shell
When we launched this case in 2018, everyone thought we were crazy. Who would dare to take on one of the richest and most powerful companies in the world? We wrote to numerous foundations asking them to help fund our lawsuit.
Everywhere  we went we came up empty-handed. Meanwhile, newspapers were of the opinion that we were actually undermining the rule of law. And then, three years later, on May 26th, we proved everybody wrong. Because we won. In our manual: How we defeated Shell, we tell you exactly how we did it.
We want the domino effect
The Manual will be launched today at the Climate Summit in Glasgow and will be published in both English and Spanish. In 70 pages we explain what is involved in this kind of lawsuit. We want to especially inspire NGOs and lawyers abroad to pursue similar lawsuits against major polluters in their own countries.
Meanwhile, lawsuits have already been announced in countries such as France, Germany and Italy. The more cases won, the greater the chance that other major polluters will feel compelled to become more sustainable.
6 important tips
Below is a preview of what you can expect from the manual
1. Make sure the lawsuit has broad support in society
From day one, we called on people to become co-plaintiffs in our lawsuit. Ultimately, 13,379 people and 6 organisations joined us. This sent out a clear signal. This lawsuit was supported by the people. Residents in the Netherlands expressed the belief that things can be and should be done differently.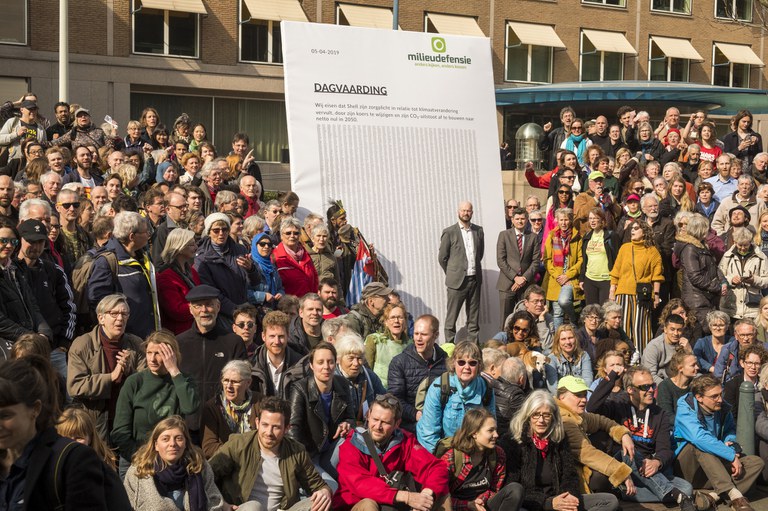 2. Change public opinion
As you may have read earlier in this article, the media was not really on our side in the beginning. So we organised webinars and press conferences, wrote easy-to-understand reports and produced videos to show that what we were demanding was not really so radical after all, but actually quite reasonable.
3. Encourage the public to contribute
Lawsuits against a multi-billion dollar company are extremely expensive. And because nobody wanted to fund our effort, we had to cough it up ourselves.
We sold tee shirts, people organised bike rides, asked our members and co-claimants to contribute. This almost always involved small donations, but in this way we managed to raise over €650.000 euro's in 2 years. Which wasn't enough, but it was a huge help!
4. Hire a kick-ass lawyer and investigative team
Roger Cox is our lawyer for the Climate Case. He had previously successfully litigated the Urgenda lawsuit against the state. His team consisted of 4 lawyers and 5 Friends of the Earth researchers.
They examined previous investigations as well as Shell's annual business plans. They probed other lawsuits that might serve as a basis for our Climate Case. If you want to conduct a successful lawsuit, be prepared to spend countless hours poring over reports.
5. Be ready for the long haul
A case like this takes time. Figure on about 5 years. That means taking a deep breath [That means being ready for the long haul?]. And be sure to raise enough money to last you 5 years.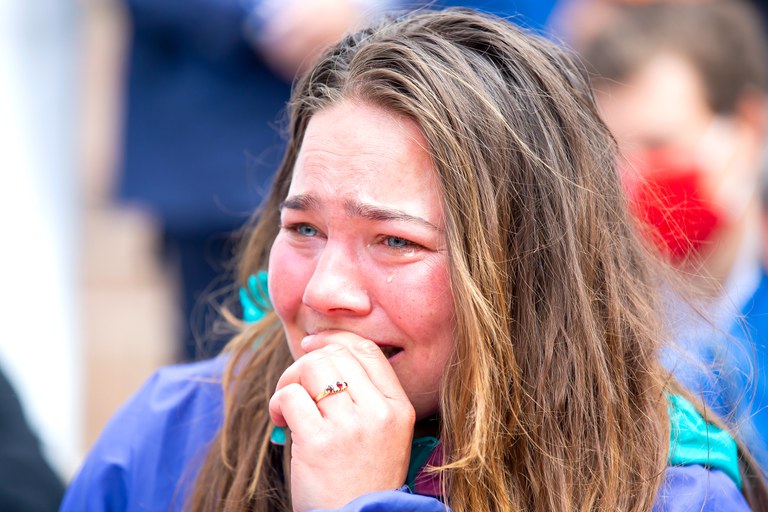 6. Believe!
The previous 5 tips may sound daunting at times. But you have to believe in your cause. The Climate Case against Shell proves that it's possible and that we can indeed change the world using lawsuits.
You have the opportunity as part of a Climate Case team to make history. To really change the world. You're in the eye of the storm. Think of those Friends of the Earth people in Amsterdam who worked so hard for over 5 years on a case that everyone said couldn't be won. A case that on May 26th made front page news in all of the world's major newspapers! We also never dared to even dream something like this could happen.
Support our lawsuit
Shell is already appealing the verdict. But we're convinced that we can win again. Would you like to support us? Because every little bit eventually adds up to €650.000. Then please support us with a donation.
The manual How we defeated Shell can be found here